Siberian Cat

- standard according to FIFe (Fédération International Féline)
General: The Siberian cat is large. Female weighs about 3,5 - 5 kg and male weights about 6 - 10 kg.
Head: Massive and a little bit longer than broad. Forehead is to be broad and just slightly rounded. Cheekbones well developed and high set. The nose is broad and medium length. The profile shows a slight identations without stop. The chin slanting slightly backwards, in profile creating a curve from the upper line of the nose.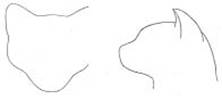 Ears: Medium size and well open at the base. Tips are rounded with a well developed hairs on the inside ant tufts.
Placement with good width between, tilting slightly forward.
Eyes: Large and slightly oval shaped. A bit oblique, set widely apart.
All colours are allowed, but green is preferable. Pure colour is desirable.

Body: The body shall in proportion create a rectangular apperance with a wll boned an muscled, broad chest and a powerful neck.
Legs: Medium high and forms a rectangle with the body. The paws are large, round and well tufted between toes.
Tail: Medium long with a rounded tip. Covered on all sides by dense hair with no hairs trailing down.
Coat: Very dense and a undercoat not lying flat. Over coat water repellent, slightly hard to touch.
Colour: All colurs are allowed with a unlimited amount of white, except patterns and the vareties chocolate, cinnamon, lilac, fawn.